Stand Out with Special Shape Cards
Order a card that is as unique as your business.
Find the right shape and size for your company. From 2″ x 2″ square business cards to 3″ circle business cards, our special shapes give you endless opportunities to be creative.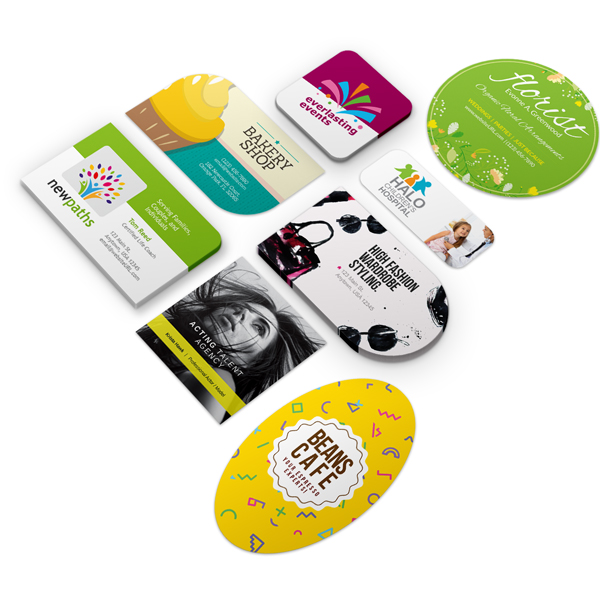 Multiple Premium Paper Stocks Available
Glossy, uncoated, matte, recycled, and triple-layered.
You can't go wrong with our reliable 14 pt. glossy or 16 pt. matte paper stocks. We also offer specialty stocks such as our 100 lb. recycled paper and our ultra thick (24 to 38 pt.) Trifecta in Green, Black, Red, Blue, and Pearl.

Sizes:
2″ x 3.5″ – Standard
2.17″ x 3.35″ – European
1.75″ x 3.5″ – Slim
1.75″ x 3″
2″ x 3″
Print Options:
Full Color Both Sides
Full Color Front, Grayscale Back
Full Color Front, Blank Back
Specialty Finishes:
(only applicable for 16 pt. Premium Matte Cover)
Raised Print UV
Raised Print Foil
Note: Raised Print specifications do not allow Raised UV or Foil to extend to the edge of the final printed piece. When cut, elements may come close to the edge, but it is not guaranteed.
Additional Options:
Rounded Corners – Corner Radius 0.25″
* Not available for all paper stocks
Paper Stocks:
14 pt. Gloss Cover
14 pt. Uncoated Cover
13 pt. Premium Linen
16 pt. Premium Matte Cover
18 pt. Ultra Premium Pearl
18 pt. Premium Kraft
18 pt. Ultra Premium Smooth White
24 pt. Trifecta Green with Velvet Finish
35 pt. Trifecta Pearl with Kanvas Texture
38 pt. Trifecta Black with Velvet Finish
38 pt. Trifecta Red with Velvet Finish
38 pt. Trifecta Blue with Velvet Finish
100 lb. Recycled Matte Cover

 Recycled paper option available.
Note:
Ultra Premium Pearl may slightly vary in thickness & color.
More Info:
Sleek and chic, business cards are the quintessential tool for the enthusiastic networker. Attract potential clients and grow brand recognition with show-stopping business cards at the lowest prices imaginable!
Choose our Gloss stock for a beautiful shine or one of our Matte stocks for a more subdued and vintage look. For truly luxurious cards, we're now offering our Trifecta ultra thick, triple-layered paper!
Designing an appointment card or want to write on the back of your card? Choose the 14 pt. Uncoated Cover for a writable surface.
For a rustic look and feel to your cards, choose 18 pt. Premium Kraft paper.
13 pt. Premium Linen and 18 pt. Ultra Premium Pearl paper stocks will add a touch of elegance to your simple business cards.
For the 14 pt. Gloss paper stock, a High Gloss UV Coating will be applied to the color sides, unless High Gloss UV Coating Front Only is selected. High Gloss UV Coating will not be applied to the back if you select Grayscale Back or Blank Back. High Gloss UV Coating makes the products more durable, so your postcards will last longer. You cannot write or print on products with High Gloss UV Coating.
Our High Gloss UV Coating Front Only option may produce variation in color and brightness between the front and back of your product.
Please note that due to the fact that we print in large volumes, different paper types may have different quantity options
Most popular business cards: 2″ x 3.5″ Full Color Front/Full Color Back printed on 14 pt. Gloss Cover
Specialty finishes include Raised Print UV and Raised Print Foil. Finishes are applied over specific graphic elements of a design. The result is a striking contrast between elements that include the Raised UV or Foil and the rest of the design.
Raised Prints are only applicable with our 16 pt. Premium Matte Cover stock.
Order Personalized Business Cards from New York Marketing
A business card is regarded as the most essential marketing tool, globally, and across all industries. This tried-and-true print product has proven to elevate. Order professional business cards in minutes with access to high-quality paper stocks, affordable prices, and a quick and easy order process. Making your own business cards is much easier than you'd think, especially with tools at your disposal, such as our user-friendly Online Designer, where you have access to hundreds of business card templates, and even various elements to create your very own design from scratch.