Hey Neighbor, Let's Collaborate!
Let's team up to extend the reach of your brand. Meet our Main St. neighbors.
---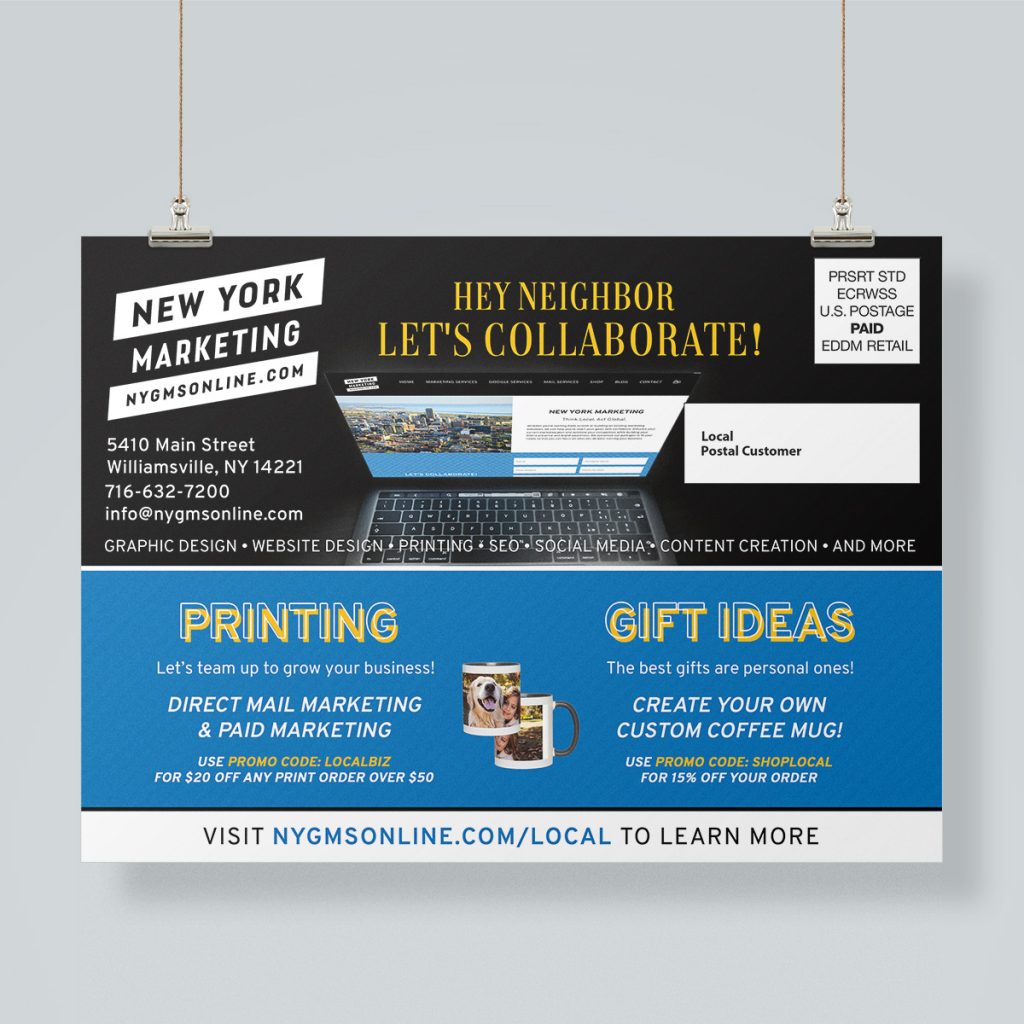 EVERY DOOR DIRECT MAIL
Get Your Business In The Hands Of Your Target Market
Easy, Affordable, Target Advertising
Get your business in every mailbox for less than the price of a stamp per mailpiece. Select your ideal audience based on age, income, or household size. Simply choose the Zip Code and carrier route you'd like to target. It's that easy!
ADVERTISE WITH EDDM
New York Marketing will assist in all aspects of your EDDM from design to delivery.
Get as few as 500 or as many as 10,000 or more. TIP: Choose your mail routes before your quantities to ensure you have enough mailers for every home and business.
PAID MARKETING: SOCIAL MEDIA
Extend The Reach Of Your Brand Across Social Media
Easy, Affordable Advertising
Different social media platforms can target selected audiences depending on your needs. While New York Marketing works with all social media platforms, we put an emphasis on Facebook, Instagram, and LinkedIn to build your online presence and improve your ongoing marketing campaigns.
PAID MARKETING: GOOGLE ADS
Increase Your Online Presence with Pay-Per-Click Advertising
New York Marketing will manage your pay per click marketing campaign while helping you stay within your predetermined budget.
A pay per click marketing campaign generally refers to search engine marketing campaigns or content focused advertising campaigns. It is advertising based on content and keyword search results.
Create a geo-targeted campaign or determine where your ads show and ensure you're not advertising to the wrong audience or through the wrong channels.
SHOP NOW!
Use "LOCALBIZ" for $20 off any print order over $50!
Use "SHOPLOCAL" for 15% off your custom mug order!
Or call 716-632-7200 for more info on additional print products.
Contact Us To Get Started