What is best for your business?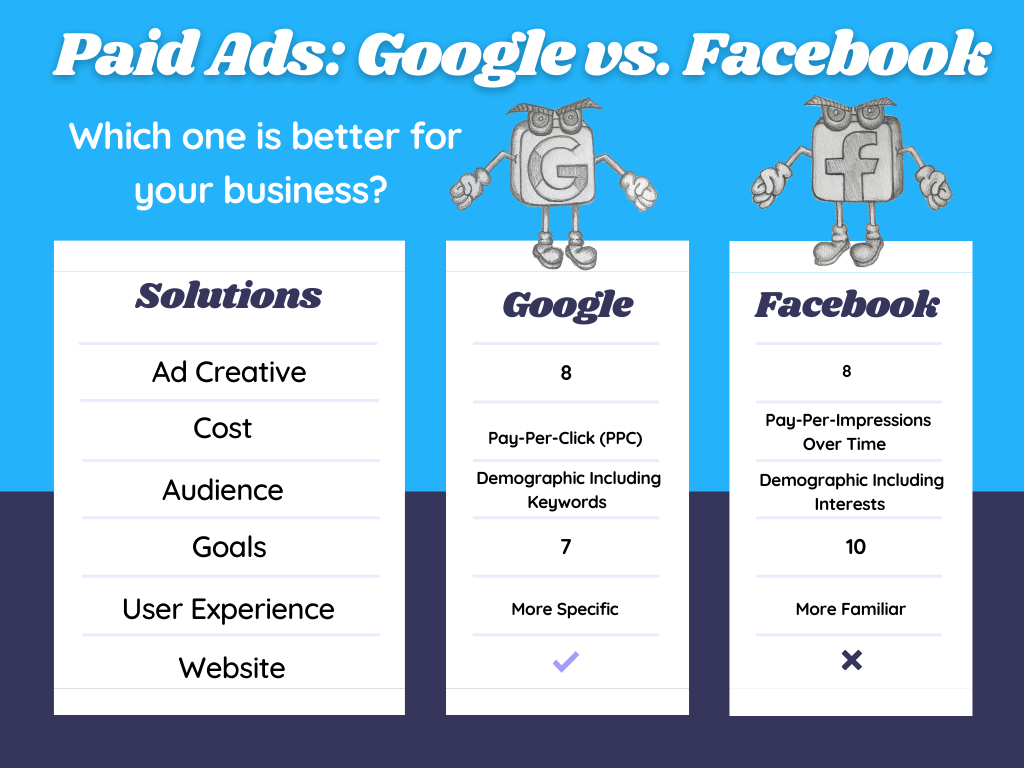 These days, a critical aspect of making a small business successful is by paying for online advertisements. However, it's easy to get confused by paid advertising platforms and even easier to waste money on them.
The first thing to understand is that one of these platforms is not better than the other; they are both great online advertising platforms! The "best" one really just depends on your type of business, its goals, and your target audience.
There are 2 main options for types of advertising spend.
The difference between an impression and a click is simple — in fact, the definition is all in their names. With an impression a user only sees an advertisement. An engagement, or a click, happens when the user actually follows through and clicks on the ad. While engagements are ultimately more valuable, impressions are still an important metric for mobile marketers.
Impressions: Facebook campaigns pay over time.
Clicks: Google Ads pay per click
Google Ads Audience Targeting
You can add audience targeting to ad groups and reach people based on who they are, their interests and habits, what they're actively researching, or how they have interacted with your business. Audience targeting can boost your campaign's performance by reaching people browsing websites, using apps, or watching videos.
PLATFORMS
Additional reach with audience:
Besides searching at Google or scrolling in Facebook feed.
Facebook – Instagram – Messenger
Google – YouTube, Gmail, Apps, other sites that use google ads
LOCATION, AGE, & INCOME
Maximize your reach among your target audience by specifying a location, age range, and income range. This allows you to target or exclude consumers that will or won't be interested in your product or service.
More Info: Dive Deeper!

Every marketing campaign needs a goal, whether it's to sell a product, get leads, or simply to increase awareness.
Google Ads offers 7 different goals:
Sales
Leads
Website traffic
Product and brand consideration
Brand awareness and reach
App promotion
Local store visits and promotions.
The goal you choose will affect the available design options when creating your campaign display.

Similarly, Facebook offers 10 different goals:
Get More Leads
Get More Messages
Get More Website Purchases
Boost a Post
Boost an Instagram Post
Get More Bookings
Promote Your Page
Get More Calls
Promote Your Business Locally
Get More Website Visitors
Again, the goal you choose will affect the available design options when creating your campaign display.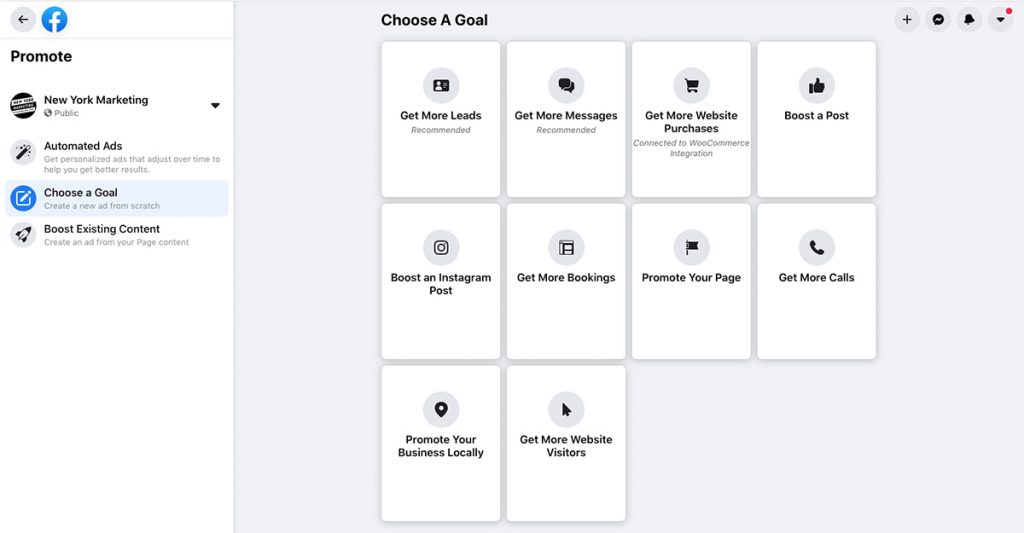 More Info: Dive Deeper!

Google Ads is split into two networks called the Search Network and the Display Network. When advertising on the Search Network, ads show up as text-based search engine results. On the Display Network, "display ads" appear as visual banners on a larger network of sites across the internet.
Google offers 8 campaign types for your creative:
Search
Display
Shopping
Video
App
Smart
Local
Discovery

You have many options for ad placement with Facebook, including Instagram, Messenger, and Audience Network. You also have different types of content to choose from when creating a Facebook ad. Text, image, video, carousel, and collection ads are visual content options.
Facebook has different creative options for the various goals. The most common format is with an image or video:
The "Get More Loads" creative also includes a form to collect user submitted data.
More Info: Dive Deeper!
Which One Is Better?
Well, that depends on a few things: what type of business you run, what your goals are, and how much money you want to spend…
If you have a business that provides a service (house and lawn maintenance, spas and salons, mechanics, etc.), you may want to consider using Google Ads so that you can be found when potential clients in your area search for your service. If you are trying to sell a product, increase engagement on your content, or spread awareness of your brand, Facebook Ads would work best for you.
Facebook is constantly collecting data on every Facebook user such as the pages you follow, topics you like, content you engage in, etc. This data helps businesses target a specific audience for their ads; this is why you often see ads on your timeline that interest you or are related to things that you engage in on the app.
Google Ads is search based advertising where businesses target users based on what they are putting into the Google search engine (keywords). Google targets audiences based on relevancy to keywords entered into a search engine, while Facebook targets users based on their interests.
Interested in learning more about the tragic story of Google and Facebook Ads? Watch our video here!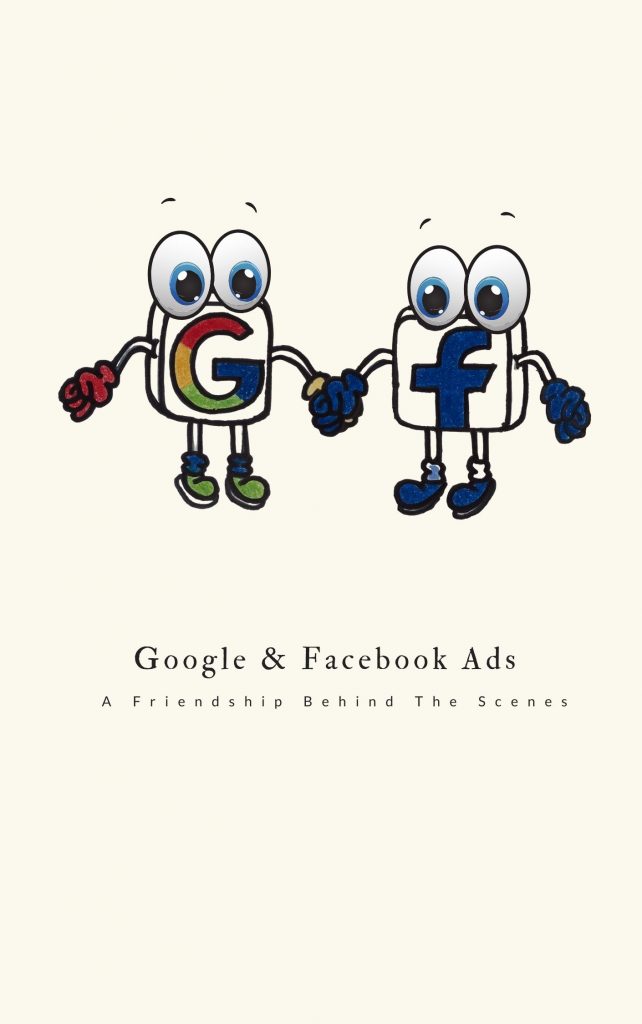 Changes in 2021
The most profound change to Google paid ads in the new year has been the rise of video. While visual and video ads has taken over social media, they're going to do the same on Google. This is because YouTube, the second-largest search engine on the internet with an estimated 60 billion daily users just in the US, will be integrating videos and allowing marketers to target customers while. they watch their favorite videos.
Another large change to Google digital advertising in 2021 is that marketers will have limited access to data. Marketers will only have access to terms "searched for by a significant number of users." While this is a move towards consumer data protection, it will make the job of marketers all the more difficult. Because of this, it's likely that a new wave of creative strategies and advertising will wipe out old ad formats including messaging and timing.
Its official, Facebook is removing its infamous 80-20 rule. This originally required that the main image in the paid ads had to contain less than 20% text. If it contained more than the allowed text it would be rejected. While Facebook confirmed that they would do away with this rule, those ads that contained more than 20% of text would still see limited reach.
In 2021, Facebook paid ads are now categorized based on an image text rating. Facebook wants to show their users content they want, which is image-heavy posts without a ton of text overlay. Basically, if an ad has a low, medium, or high text rating it could perform poorly and reach a significantly lower amount of people than expected. Its best to stick to the 80-20 rule as much as possible since image-heavy ads still perform the best.